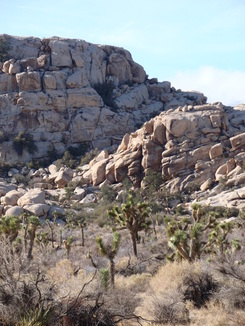 Around summer of 2009 is when Aaron proposed the grand idea of doing all national parks by age 40. I instantly was in love with this idea, and decided that if I have any medium to long term life goals, that was a feasible one. A random weekend in December that year was a perfect opportunity to begin on the path to completing it, since I needed to average 3 new parks per year if I wanted to reach all 58. We took the opportunity to drive the short 3 hours our to Joshua Tree that up until my quest began, I knew nothing about. It turned out to be a beautiful and brilliant place that can be very pleasant in the winter and spring, and due to it's low visitation is generally "empty" if you go during the right time of year. December turned out to be one of those times. We stayed at White Tank campground, in the middle of the park, and had a freezing but quiet night among the rocky outcroppings of this Joshua Tree-filled desert.

The next morning we headed further south toward the main hike of the weekend, Lost Palms Oasis, approximately 4 miles round trip. We started out of Cottonwood Oasis trail, headed to the main oasis with a few dense pockets of palms in the canyon, and on the way out passed by the trailhead to Mastodon Peak, which we decided to take as a short detour for great views.

We continued back north to White Tank campground which holds the trailhead for Arch Rock Nature Trail. It should have been a 1 mile loop, but took a bit longer due to our desire to explore and boulder hop among the impressively photogenic formations. After the arch, we continued to another boulder formation, Split Rock, where we hiked the 2 mile loop and and spotted the aptly-named Tulip rock.
After some more exploring and quick 1 mile loop nature hikes, we went back to the campground and returned the next day to Keys View, with some impressive views to the west and south, overlooking the Salton Sea and the San Jacinto mountains past it. On the way back, we took a 3 mile hike through Lost Horse Mountain area to the Lost Horse mine, and then explored a few rock formation stops before heading back home after a short but intriguing 36 hour taste of Joshua Tree.