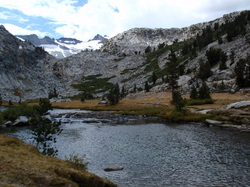 Mt. Lyell is the tallest peak in Yosemite NP at 13114 feet
, and regarded by many peakbaggers as having some of the most impressive views of the Sierras based upon it's proximity to many other highpoints (with the others being Mt. Brewer in King's Canyon and Mt. Hoffman in Yosemite near May Lake).
For this trip, Marie and I camped out along Hwy 120 at one of the many small Inyo NF campgrounds on the east entrance, and met up with Aaron at the ranger station early the next morning. We were easily able to nab a walk up permit for backpacking via Lyell Canyon from the Tuolomne Meadows Trailhead. After organizing our gear, we set off for our base camp at the upper portion of Lyell Canyon, just below the tree line. There were 3 or 4 campsites on the west side of the river, which provided plenty of ample water flow still in early September.

The next morning we awoke leisurely, as the peak was only a few miles away at this point, and hiked up to Lyell pass, the edge of Yosemite NP, before turning west towards the peak. The approach was mostly clear of boulders until the last mile, which began turning into dense scree. We passed a couple who had turned around for fear of some ominous storm clouds, but we were keeping a watchful eye on them the whole time, and in fact didn't hear our first bit of thunder or see any lightning (on another, very distant peak) until we had actually reached our own summit.

When we reached the large Lyell glacier, we immediately wished we had crampons in our packs, as the trip around them to the north added easily an extra 30 minutes over just climbing straight up the glacier to the final summit approach. There was a point at which due to the distance and perspective of the mountain, it seemed impossible to scale without ropes, and had it not been for Marie pushing us along, we would have never summited. Sure enough, she was right (as she always is) and we found the final summit climb very easy with minimal exposure. The summit was beautiful, and showed an impressive set of afternoon storm clouds in the distance which caused us to go back down with haste. We reached our basecamp well before dark, and leisurely packed out the next day, making for a very enjoyable and relaxed backpacking trip to a beautiful summit.