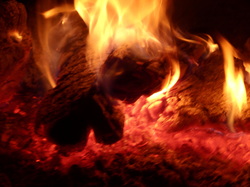 Our first trip together ever was a short 2 night/ 2 day car camping trip to Sequoia and King's Canyon National Parks in 2008. We arrived the first night after a long, traffic-filled drive out of Los Angeles and just in time for a nice campfire at Dorst Creek campground, in the group section.

This campfire was particularly memorable because it taught me a life lesson about campfire safety. I am always used to fully extinguishing campfires before I go to bed, and I attempted to do the same on this particular evening. Slowly dousing the fire with water from a pot was a bad idea, as some pooled on top of a log, dumped at once into the hot coals, and turned into a burst of steam that funneled underneath a burned out hollow of a larger log and straight towrd my pouring hand (despite being a few feet above and away from the actual fire). This resulted in a 2nd degree burn that certainly took some of the enjoyment out of the rest of the weekend. I treated it the best I could, and eventually fell asleep.

We awoke the next morning and made the long but beautiful drive down the scenic Generals Highway, over to the King's Canyon Scenic Byway, and along the steep canyon walls to Road's End. It was here that we began the trail to Mist Falls. This first trip was plagued with problems here though, as the high temperatures of ~85F slowed us down, and we ended up taking the wrong trail towards Bubbs Creek instead of the Rae Lakes loop. We went up easily 4 miles, realized we were on the wrong trail, and decided it was too late to attempt to correct. Instead, we found a nice spot of pools and mini-falls to call our destination.



We then headed back to the trailhead where we met up with a coworker (she had stayed behind with her 6-month-old). The trailhead turned out to be a hotspot for cooling off in the creek, and had some very deep spots--perfect for jumping off of boulders and getting an exercise by trying to swim upstream. The day was rounded out with a detour on the way back to the General Grant store, where we satisfied our collective ice cream cravings.

Sunday our groups separated and Marie and I broke off to cover as much of the Sequoia NP as possible, given that it was my first time there. We began by heading over to do a quick ascent of Little Baldy and snapped some great panoramic views of the mountains and terrain.



This was followed by a quick hike of the tourist-packed Moro Rock, which had incredible views not very different from Little Baldy, but because of accessibility was at least 100x more crowded. What truly impressed us were the 797 steps carved into the rock which led to the lookout point. The magnificence of this CCC project from 1931 is highlighted in the way the path is carved into the natural contours and crevices of the Moro Rock formation. We followed this tourist attraction with another nearby-- the drive through fallen Sequoia tree. This acted as a teaser for our final hike of the trip, the General Sherman tree loop, showcasing the General Sherman tree, the largest tree on Earth by volume and mass.

Following this, we began the drive back to Los Angeles and arrived without incident. In all, it was a great trip that showed us many of the touristy highlights that Sequoia and Kings Canyon National Parks have to offer.