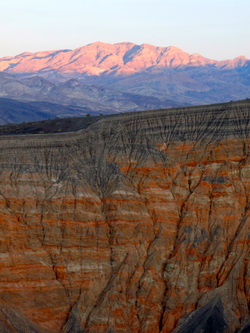 IMO, Death Valley is the most underrated national park I have ever been to. It is the largest outside of Alaska, and covers more different topographies than anywhere I have seen, at least out of 20 so far. This was our first trip to the park, and despite the 5-6 hour drive each way, we have been there at least four times since, and still have barely repeated any hikes. You are able to go to the lowest point in the western hemisphere at less than -200 feet and then up to 11000 feet in only a few hours. You can see sand dunes, craters, marbled canyons, and waterfalls in the same day. It's truly breathtaking, and almost every time we are there, the place feels deserted.


Each day of this trip report can be used as a separate set of activities, as they are all grouped geographically.
Friday: The major attractions south of Furnace Creek

1. Golden Canyon Interpretive Trail w/ Gower Gulch loop: 4.0 mi RT. This was the first hike, and by far the most exposed to heat and sun. The canyon walls were interesting, and there is a side trip about 1.0 mi in that leads 0.25 mi to the "red cathedral" with really tall walls and and nice colors. Towards 3.0 mi or so, there are a lot of old mines in the hillsides, where they reach down to within 6 feet of the wash. One of them that was larger, sturdy and actually went through a hill 20 ft to the other side, and had a junction that went further in as well. If you end up doing this trail, make sure to take a map or GPS as some of the trail signs were literally torn out of their holes and scattered along the wash.

2. Natural Bridge Canyon: 1.5 mi RT to natural bridge. This was neat to see the giant natural bridge, but only do it if you feel like you have plenty of time. There is not much else to see aside from it and some dry falls, the path is uphill and sandy/gravelly, and the dirt road access is one of the more severe ones.

3. Devil's Golf Course: Nice little detour along a dirt road to some interesting salt formations.

4. Badwater EL -282 ft.: Took the short walk into the salt flats, and if you bear right you can find formations that are incredibly well preserved and untouched by tourists. I never would have thought you could have so much fun with macro settings and a piece of salt. Look closely at the photo of the hillside and you'll see the sign indicating where sea level is....

5. Artist's Palette 1-way drive: Desert beauty and fun in many places. Has pulloffs where you can get shots of green, orange, purple, white, and black boulders all next to each other. Worth the 30 minute drive.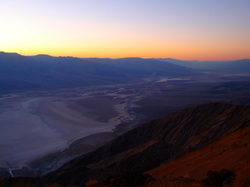 6. Dante's View: Had 40 minutes to sunset, so drove all the way over to this lookout point that is actually directly above Badwater on a huge cliff, and provided an incredible view of the valley. Unfortunately the sunset had very little cloud interference to make it truly spectacular.

Saturday: Heading North from Furnace Creek.