Day 1

Devil's Postpile and Rainbow Falls ~ 5.5 miles. Great hike and well worth it to a unique geological feature, with hexagonal columns up to 60 feet tall. Rainbow falls, albeit not unique was still a very impressive waterfall at 101 feet from base to top of falls.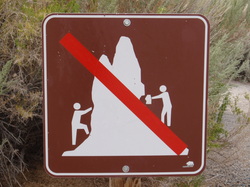 Mono Lake South Tufa Area and Panum Crater Plug Trail ~ 2 miles.The tufa (stalagmite-resembling towers of salt) form at the bottom of Mono lake due to the extremely high salinity. This area of the lake has been exposed due to slowly drying up levels of water, leaving these interesting formations exposed. Also visible in this area are the millions of alkali flies that live along the edges of the lake. Yes, that picture of "black" shoreline is actually a bed of flies. Apparently, one of the issues of the past has been people removing pieces of Tufa, hence the very interesting sign.

After the tufa, we went on to Panum Crater to explore the remains of an old volcanic eruption. Two very interesting types of rock formed under volcanic conditions are Obsidian and Pumice. This was a great opportunity to appear to be 10x stronger than in reality with the amazingly lightweight Pumice that was found everywhere.
Black Point Hike ~ 3 miles RT, Looking for some slot canyons and fissures in the plateau near Mono Lake, but hard to find the fissures as the instructional sheet of paper from the visitor's center had very poorly designed instructions. They recommended circling the south side of a sandy hill in order to slowly walk up in a switchback fashion. I would suggest going straight up to the peak (perpendicular to the road), and then you can see the fissures from the top. However, the roundabout manner at least allowed us to meet a reptile friend. . They were pretty incredible slot canyons between 1 and 4 feet wide, 10 to 50 feet tall, and in some cases hundreds of feet long. Some of them started and ended in the plateau---as in they did not end at an open cliff. Very enjoyable day hike if you can find them. It was nearing dusk as we finished, and we got treated with a sunset on the way back to the car.

Day 2

Saddlebag and 20 Lakes Basin Loop Hike ~ 6 miles in a loop at 10000 feet around a number of lakes just north of CA 120, Tioga Pass Rd. You can make it a couple miles longer by not taking the ferry across the largest of the lakes- Saddlebag. Great examples of alpine scenery.