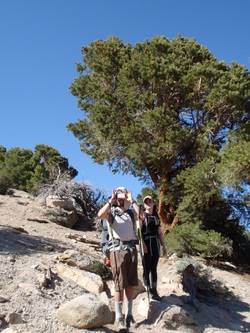 Well, this previous weekend we attempted to do a double 14er weekend in the Sierras. Unfortunately, it's our first mountain weekend that's defeated us...

We left Redondo Beach at 5:15am on Friday, and arrived at the Eastern Sierra Interagency Visitor Center in Lone Pine, CA around 10:00am. We got the last 3 overnight permits for the day, for 3 nights out of Shepherd's Pass trailhead. After a quick bite at Alabama Hills cafe (awesome breakfast and lunch to load up before a long weekend), we drove down some of the wrong, rarely used 4x4 trails to get to the Shepherd's pass hiker trailhead.

At 12:30pm, we were on the trail and within 15 minutes finding ourselves jumping out of our boots and socks for our first water crossing. We were able to bypass the 2nd and 3rd crossings via a use trail on the north side of Symmes creek, and then had to de-boot for the 4th crossing. This was the end of any easy hiking, and we began up 55 switchbacks and 2500 feet to a series of 3 saddles, and then dropped back down 500 feet to Mahogany Flats.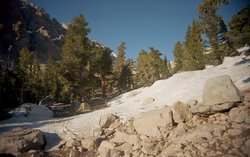 At this point, we were fairly exhausted and had been taking it easy (now being at 9000 feet and having slept at sea level only 12 hours before). However, the campsites had poor water access, so we pushed on to Anvil Camp. This entailed our first snow/ice crossings, and I whipped out the ice axe, with Andrew comfortably using poles. We arrived at 10,300 foot Anvil Camp after 8 miles and over 4000 feet of gain, then set up camp and made a quick meal of fajitas before going to sleep just after dusk.

We awoke casually on Saturday and were packed, fed, and on the trail by 9am. By 11am we were at Shepherd's pass, at over 11500 feet and 4 miles up many snow crossings. At this point I already had the gaiters on and ice axe out, but now I needed to put on the crampons like everyone else and proceed to climb Shepherd's pass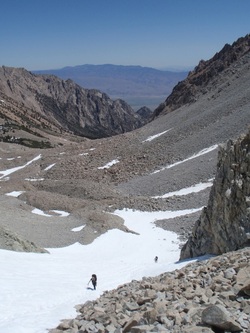 After reaching the top of the pass, we dropped our packs, searched for water as all the lakes were frozen over, and found a trickle of snowmelt about 10 minutes away from our packs. After setting up camp, eating lunch, and repacking light, we proceeded toward Mt. Tyndall, our first 14er objective of the weekend. We filled up our water on the way, and began climbing the endless talus. Marie started getting nauseous and signs of altitude sickness, and after slowing down signficantly, we got to 13,600 feet where she stopped. The other two of us proceeded to the top of the ridge, at 13880 feet and discovered a false summit which would require another 30-40 minutes to navigate around to the true summit. As a result, we snapped those pictures at the false summit, turned around, and slowly backed down the mountain. Once we made it back to camp around 7:30pm, we had a chat with some others staying at Shepherd's pass, then made food and hit the sack.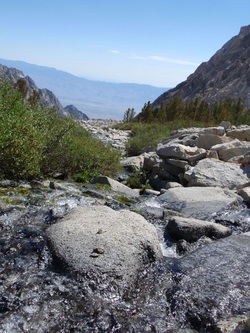 Sunday morning we were still not feeling great, after our first true exposure to altitude sickness, and so we decided to play it safe and hike back out to the trailhead. We made it out with no issues and got home late that evening.