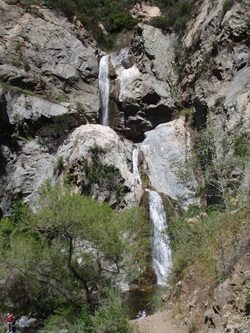 A couple weeks ago we made the short drive to Azusa, CA on the southern side of Angeles National Forest to make the hike up to Fish Canyon Falls. It is a great hike along a fairly level canyon which has been an escape location for LA residents for many years. In fact, the hike takes you past the ruins of 60+ year old resort cabins from when this was a local vacation spot. However, nowadays things are much different as there is a rock quarry operation blocking the main entrance to the trail for 95% of the year.

Complaints from local residents and fans of this trail were excessive, and the quarry operations now grant access on select Saturdays throughout the year, shuttling visitors from a parking lot at the entrance to the actual trailhead. They were very nice and accommodating, but the unfortunate part of this arrangement is that it focuses all the foot traffic from 10 days of hiking into a 7 hour period on one day, so that the trail becomes very crowded.

Considering that half of the trail winds along the steep canyon walls, and are only 1-person wide, it makes for a more frustrating hike if you come up on people not supporting trail etiquette, as we did. The best solution for those wishing to go would be to arrive as early as possible and avoid the commotion.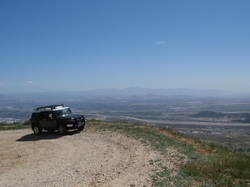 We then continued to Angeles NF information, where we planned to go to Rincon Shortcut 4x4 trail across the ridges and forests, but found out the trailhead was underwater and the trail itself had fire damage from the horrible Mt. Wilson fire last summer.

I checked the trail book, and headed off toward San Bernadino NF instead to tackle the Sugarpine Mountain Trail that travels the ridge of Sugarpine and Cajon Mt, from 2000 to 5600 feet in elevation, over a total length of 17.1 miles on a one-lane rugged jeep road. The trail was pretty incredible, and doable in any powerful 4wd vehicle if you are careful when navigating the deep crags and ruts in the road. The views were great and I have a few photos below. This would be a great trail to do in the future as it has many campgrounds along its' length.

The one hiccup in the entire trail was not the actual rocks or terrain but coming up behind a caravan of 15-20 off-road rigs that were part of the volunteer OHV group who were meeting at the summit.

The last bit of the trail took us past some expensive ranches to I-15 and we headed home with the weekend Vegas crowd.